Our colour samples
All of our reclaimed wood furniture is available in 6 unique colours that are created by us!

Warm - Our warm finish is a mid-brown natural wax with a hint of honey tones which creates a beautiful rich colour to give your home a warm and inviting feeling.
Grey - Our grey finish is a unique colour wash which is sealed with a natural clear wax. This creates calming tones and a contemporary finish without losing the natural rustic character.
Mocha - Our mocha finish is the darkest of our natural waxes. A classic chocolately brown with sumptous deep and rich tones that blend together to give a stunning timeless and luxurious finish.
Natural - Our natural finish uses a clear wax that brings out all the natural tones and colours in the wood, highlighting the genuine character of each beam.
Limed - Our limed finish uses a white liming wax which enhances all the character while giving a subtle white wash coastal feel.
Smoked - Our smoked finish uses a dark grey wash and sealed with a white wax which enhances all the natural grain & character to give a deep smokey and contemporary style.

When you order a free set of our 6 wood colour samples, they'll arrive in a letterbox-friendly package.
To order please call us on 01159 700 060 or email info@eatsleeplive.co.uk to discuss options.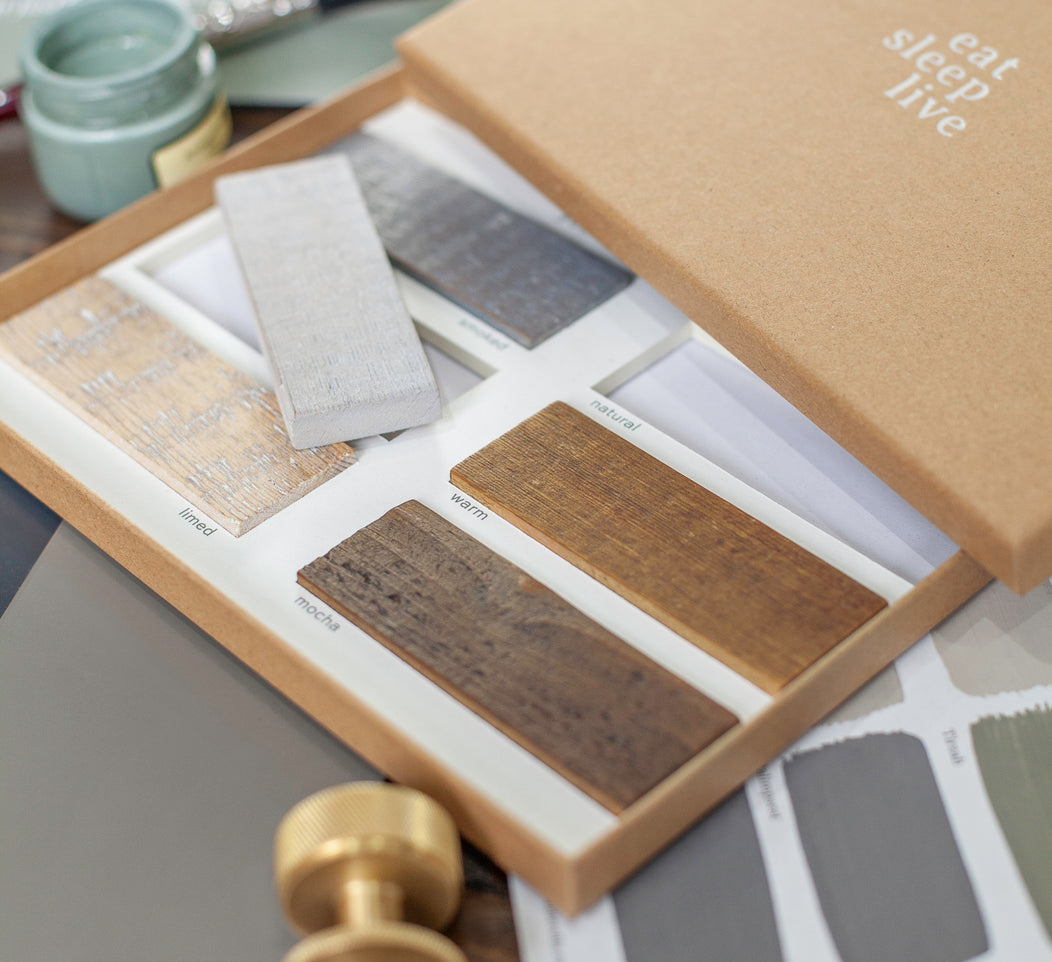 Frequently asked questions
For fabric swatches (Annabel Dining Chairs) and custom metal samples, please call us on 0115 970 0060 or drop us a message on LiveChat to discuss the options.
Please email photos of your existing furniture to info@eatsleeplive.co.uk and we can look into this for you.
We currently offer six colour options, if any of the colours are not quite what you are looking for, we do offer a service where we would leave your furniture unfinished for you to apply the colour yourselves.
Please take the colour samples and photos on our website as a guide, as no two beams are the same, they all have their own individuality with tones/colours/imperfections which is all part of the character. Plus, this is what makes each piece unique to you!
Our colour samples are free, we send them out to you by 1st class post. And yes! We package our colour samples in a nice, letter box friendly package.